EMERGENCY AND EVACUATION LIGHTING
Emergency and evacuation lighting installations are designed in all construction works, where the loss of voltage in the mains supply causes a threat to human life or health, serious environmental hazards and significant material losses (Regulation of the Minister of Infrastructure of 12 April 2002 Journal of Laws 75 item 690, as amended - Regulation of the Minister of Infrastructure of 12 March 2009 Journal of Laws No. 56 item 461 and Regulation of the Minister of Infrastructure of December 10, 2010 Journal No. 239, item 1597). Emergency lighting is classified as fire protection and should be maintained in 100% efficiency.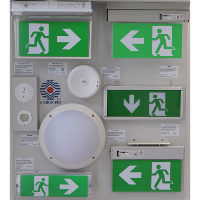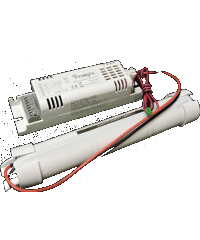 REPAIR OF EMERGENCY AND EMERGENCY LIGHTING INSTALLATION
Maintaining the efficiency of emergency lighting fittings should be verified in terms of lighting time and illumination in emergency mode. The repair consists mainly of replacing the battery, the light source and the control module in case of failure. There are also systems where all fixtures are powered from one source, central battery, centrally managed systems. In the era of LED lighting, the majority of emergency luminaires are made in this technology, so defective luminaires are usually exchanged for LEDs.

We offer comprehensive emergency lighting installation service: inspection and diagnostics of the installation, repair or replacement of fittings, measurements.
LED LUMINAIRE - EMERGENCY AND EMERGENCY LIGHTING
All luminaires mounted by us have the required declarations of conformity and certificates allowing them to be used in emergency lighting systems. The customer will get all the required documents from us. We work with producers of high quality emergency lighting. The luminaires we offer are used in industry, public buildings, shops, shopping centers and wherever emergency lighting is required.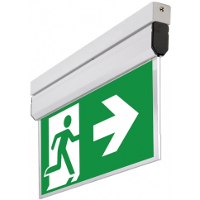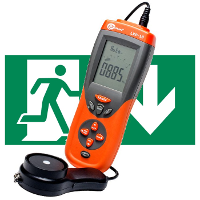 OVERVIEW AND MEASUREMENT OF EMERGENCY AND EMERGENCY LIGHTING INSTALLATION
All tests and tests of emergency lighting systems are carried out in accordance with the guidelines of the PN-EN 50172 standard. The review includes functional tests and measurements of lighting intensity. The tests consist in performing a simulation of a power failure, checking that all safety signs and luminaires have switched into emergency operation mode and then whether they returned to the normal working condition and charging the batteries. During this time, compliance of the lighting time with the value provided for in the standard is checked.

Measurements of lighting intensity are carried out at night, after dark, with measuring instruments for this type of measurements.

A full review of the installation should not be carried out less frequently than once a year.