ELECTRICAL INSTALLATIONS
A well-made electrical installation is the foundation of the safety of its users, but also the safe operation of devices connected to it. The installations we perform are checked at every stage of assembly. Measurements of electrical cables delivered for construction and connections at the installation stage significantly affect its quality.

Lightning and grounding installations perform very important functions in the protection against electric shock and protect against the effects of lightning and surges in the power grid. We place great emphasis on correct performance and inspections of electrical installations, grounding and grounding installations.

We provide our clients with professional consultations, high quality materials at competitive prices and professional assembly, upgrades and repairs made by qualified installers with current electrical qualifications.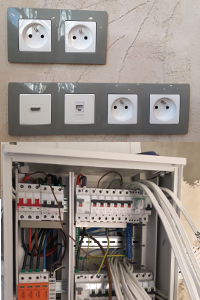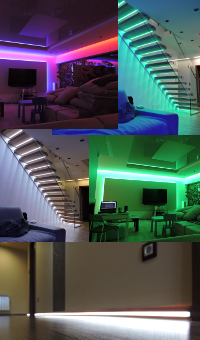 DECORATIVE LIGHTING
LED strips are a very popular way to create an interesting climate and give the rooms an individual character. Correct operation of such lighting due to the used light source and 12-24V power supply voltage requires properly selected materials and correctly made installation.

Uneven luminescent tape, color change during use, power system failures are just some of the consequences of incorrect assembly and inappropriate materials. We offer our clients professional lighting installations, control systems tailored to individual needs.

We use professional LED strips with different luminous capacities depending on customer requirements, RGBW tapes that allow lighting the room with any color. Novelty are RGBW digital tapes, in which each module can be controlled separately. In our offer we have a wide range of LED strips, power supplies, controllers and mounting accessories. Installation is possible in any place with virtually no restrictions (bathroom, shower, wardrobe, kitchen), also outside.
GARDEN - ELECTRICAL INSTALLATIONS AND LIGHTING
The presence of electrical wiring in the garden is already standard, can we imagine a garden in which there is no lighting or we can not connect the radio, charger? Modern technologies allow our garden to become, just like a house equipped with electrical, multimedia and lighting installations. High-quality materials guarantee the safety and protection of weather-sensitive system components.

We install modern garden lighting, building facades, driveways made in LED technology. Electrical and multimedia outdoor installations combined with intelligent home automation, gate control, irrigation system.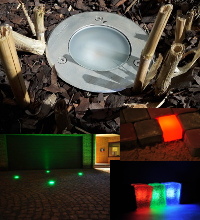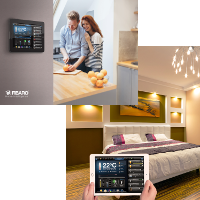 Building automation is not only convenience, but also safety and savings. The system allows you to manage the building through any device from anywhere on earth.
Controlling lighting, blinds, window opening, heating and many equipment devices will ensure comfort and save time. Sensors: motion, temperature, flood, carbon monoxide, carbon dioxide and many more will ensure the safety of residents. All this in one application, which in addition to the already mentioned functions will provide a monitoring preview and, if necessary, take a picture and send it to us on the phone.
The system can be freely expanded and programmed, eg when we leave the house of the blinds and the windows will automatically close and the light will turn off. The only limit is our imagination.